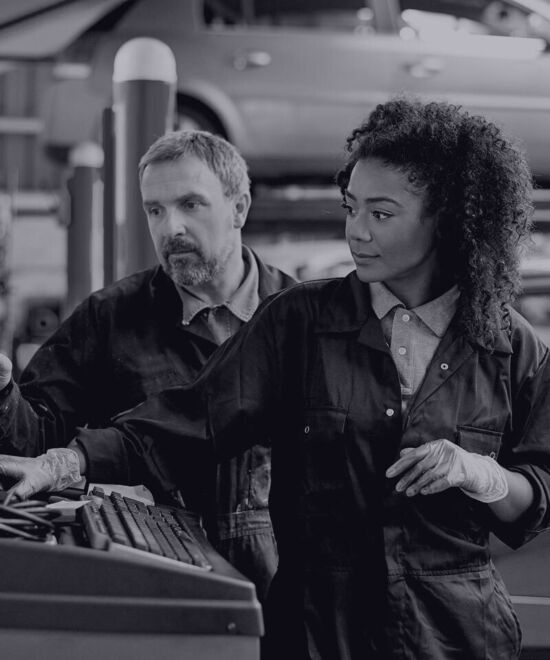 Steps for Becoming an Automotive Technician
Step 1: Engage with your local dealers
Engage with your local dealers while you're in high school – call them to see if you can work part-time as a shop hand or apprentice technician.
Step 2: Research your path
Research your options after you graduate high school to start to gain an understanding of the differences between for-profit schools and Community College.
Step 3: Pick your path
Pick your path between Community College or for-profit school. Community College is less expensive and awards an associate degree, but takes two years to complete. For-profit schools only take one year to complete but are more expensive and award a certificate. There is no wrong choice, it depends on what you prefer.
Step 4: Investigate
Investigate brand-specific programs that are offered in the path you selected.
Step 5: Secure an Internship
Once you get into your auto-program of choice, look for internships with local dealers (talk to your school counselors, teachers, and alumni).
Who is the ATC?
The Automotive Technician Collaboration (ATC) was founded with the goal to increase awareness in the automotive technician career, create strong cultures for technicians to grow in, and mitigate the risk of the ongoing technician shortage.
As the number of technicians in demand grows, the automotive industry loses out on potential revenue. In order to reverse this demand, each member of the ATC has come together to invest in the growth, development, and happiness of their technicians, as well as spread awareness for how this career has changed.
What is the Technician Shortage?
The automotive industry needs an additional 20,000 technicians per year to meet demand (75,000 total!) - and that number has continued to climb as more and more people choose to attend a 4-year college in the US. As fewer people go into trades, the demand for technicians grow.
Why should I become a technician?
The auto technician career involves working with computers - as well as your hands. The culture of each dealership is team-oriented - some dealerships even do team-based bonuses, so everyone on the team wants to see each other succeed. Technicians have to solve problems every day, meaning each day is different than the one before. The combination of these abilities leads to a skillset that is transferable across multiple industries and roles.
Where do students go for education for the career?
There are a couple of different options automotive technicians have when it comes to education. Automobile manufacturers, vocational schools and community colleges offer training programs that award certificates of completion in automotive service technology or associate degrees.
What are certifications? Why are they important?
Certifications come from the Automotive Service Excellence (ASE) allows technicians to have continued learning and specialization within a specific sub-set of the career. They boost technician pay and increase technician demand, as customers want to work with a technician that has been quality certified to repair their specific vehicle.
What are the career opportunities?
There's a huge opportunity for advancement! Technicians start as apprentices then become Main Line Technicians. From there, they work up to Master Technician and have the options to become a Shop Foreman or Manager.
Where can I learn about local apprenticeships and internships?
There are apprenticeships throughout the US! Click here to see all of our OEM training programs.